Posts for: April, 2018
By Mark J. Schwartz, DMD
April 22, 2018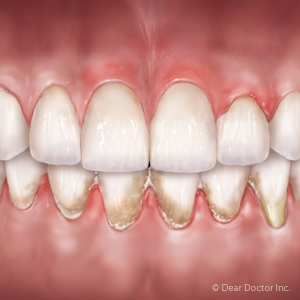 Periodontal (gum) disease can cause a number of devastating effects that could eventually lead to tooth loss. However, you may be more prone to a particular effect depending on the individual characteristics of your gums.
There are two basic types of gum tissues or "periodontal biotypes" that we inherit from our parents: thick or thin. These can often be identified by sight — thinner gum tissues present a more pronounced arch around the teeth and appear more scalloped; thicker tissues present a flatter arch appearance. While there are size variations within each biotype, one or the other tends to predominate within certain populations: those of European or African descent typically possess the thick biotype, while Asians tend to possess the thin biotype.
In relation to gum disease, those with thin gum tissues are more prone to gum recession. The diseased tissues pull up and away (recede) from a tooth, eventually exposing the tooth's root surface. Receding gums thus cause higher sensitivity to temperature changes or pressure, and can accelerate tooth decay. It's also unattractive as the normal pink triangles of gum tissue between teeth (papillae) may be lost, leaving only a dark spot between the teeth or making the more yellow-colored root surface visible.
While thicker gum tissues are more resilient to gum recession, they're more prone to the development of periodontal pockets. In this case, the slight gap between teeth and gums grows longer as the infected tissues pull away from the teeth as the underlying bone tissue is lost. The resulting void becomes deeper and more prone to infection and will ultimately result in further bone loss and decreased survivability for the tooth.
Either of these conditions will require extensive treatment beyond basic plaque control. Severe gum recession, for example, may require grafting techniques to cover exposed teeth and encourage new tissue growth. Periodontal pockets, in turn, must be accessed and cleaned of infection: the deeper the pocket the more invasive the treatment, including surgery.
Regardless of what type of gum tissue you have, it's important for you to take steps to lower your risk of gum disease. First and foremost, practice effective daily hygiene with brushing and flossing to remove bacterial plaque, the main cause of gum disease. You should also visit us at least twice a year (or more, if you've developed gum disease) for those all important cleanings and checkups.
If you would like more information on hereditary factors for gum disease, please contact us or schedule an appointment for a consultation. You can also learn more about this topic by reading the Dear Doctor magazine article "Genetics & Gum Tissue Types."
By Mark J. Schwartz, DMD
April 12, 2018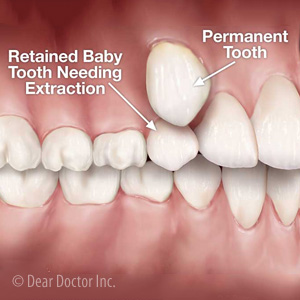 The primary goal of dental care is to preserve teeth. But there are circumstances in which removing a tooth, even a relatively healthy one, could prove best in the long run.
A malocclusion (poor bite) related to crowding might fit such a circumstance. Crowding occurs when the size of the jaw is too small for the teeth coming in. With not enough space, some teeth could erupt out of their proper positions. Removing certain teeth frees up space to eventually allow braces or other orthodontic devices to re-align the teeth.
The teeth most frequently removed are the first bicuspids, located between the cuspid (the "eyeteeth" directly under the eyes) and the back teeth, and the second premolar. Removing these won't normally affect appearance or functionality once orthodontic or cosmetic treatments are complete.
Because of the mechanics of jaw development it might be necessary to perform these extractions several years before orthodontic treatment. This could create another potential problem: the time lag could adversely affect bone health.
This is because bone, as living tissue, has a life cycle with cells forming, functioning and then dissolving, and new cells taking their place. When teeth are chewing or in contact with each other they generate force that travels through the tooth roots to the bone and stimulates cell growth at a healthy replacement rate.
But when a tooth is missing, so is this stimulation. This slows the replacement rate and eventually leads to decreased bone volume. Too much bone loss could create obstacles for orthodontic treatment or a future dental implant.
To avoid this, the dentist will often place a bone graft with processed bone mineral within the empty tooth socket right after extraction. The graft serves as a scaffold for bone cells to grow upon. The graft (plus any other added growth boosters) can help maintain a healthy level of bone volume to facilitate future orthodontic or restorative treatments.
Since targeted extraction for orthodontics is time-sensitive, you should have your child's bite evaluated by an orthodontist by age 7 to see if any action is necessary. The earlier a malocclusion is detected, the more likely a more attractive and healthy smile will be the ultimate outcome.
If you would like more information on correcting poor bites, please contact us or schedule an appointment for a consultation. You can also learn more about this topic by reading the Dear Doctor magazine article "Tooth Removal for Orthodontic Reasons."